Germany 3: Triberg and the Black Forest
After partially recovering from our non-trivial Oktoberfest hangovers, Kristine, Javier and I jumped in the bimmer and Autobahn'ed further south to Triberg. Triberg is nestled in the foothills of the alps at the edge of the famous Black Forest. Its a quaint little town whose claim to fame is Germany's tallest waterfall and many, many coo-coo-clocks for sale.
Unlike some of the larger cities in Germany, Triberg was lucky enough to be both too small and too unimportant to be decimated during World War 2. You can see a strong Swiss influence here in the buildings.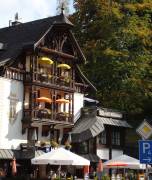 Here's more or less the center of town.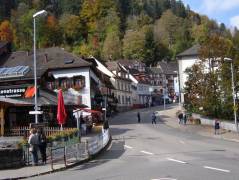 When I say its hilly, I'm not kidding. Check the map:
And the local church in the distance.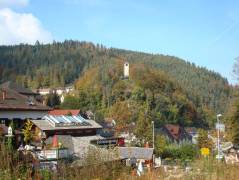 Before going about the exciting business of climbing up a huge waterfall, we needed some hangover fuel. Triberg is pretty touristy, so the names of stuff on the menu were actually translated into English. I wanted to eat a pretty popular local dish so I tried out Schweinshaxe. Translation: pig knuckle. I'm still not sure exactly what it was.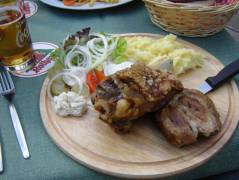 It was DELICIOUS. I think it was near the knee of a pig. The meat was dark, extremely tender and tasted like the dark meat version of pork.

When we were driving into Triberg, much of the forest looked like this.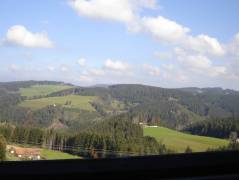 These stands of trees are exclusively very tall fir (I think) trees. Except for trees that originally grew at the edge of a field or something, the trees only had branches at the very top and did a good job blocking out light. I figured that was where the black forest got its name. Before man's intervention however, thats not what the forests in the area would have looked like. Signs near the waterfall indicated the forest should have looked more like this: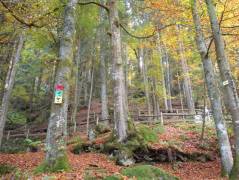 Sure the whole black forest wasn't that hilly, but thanks to the steep terrain this area wasn't really logged very much, and thanks to the waterfall the area was protected as a sort of park for a long time.
Here's an obligatory "i'm a tourist" shot.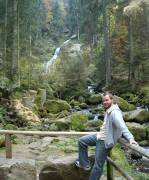 Eh, and another.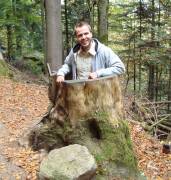 You can almost get an idea for how far the waterfall goes. Make sure you enlarge this pic and check out the people on the bridges near the top of the frame.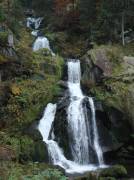 ---
ten comments:
Looks like a sweet trip. Thanks for an entertaining lunch read.
Dustin () (URL) - 17 10 07 - 11:43
http://www.bootsera.com/ Ugg Boots outlet
http://www.bootsera.com/ Ugg Boots
http://www.bootsera.com/ Ugg outlet
http://www.bootsera.com/ Ugg Store online
http://www.bootsera.com/ Cheap Ugg boots

http://www.bootsera.com/UGG-Boots-5803-Bailey-Button-c27.html UGG Boots 5803 Bailey Button
http://www.bootsera.com/UGG-Boots-5842-Classic-Short-Metallic-c44.html UGG Boots 5842 Classic Short Metallic
http://www.bootsera.com/UGG-Boots-5852-Tall-Baroque-c45.html UGG Boots 5852 Tall Baroque
http://www.bootsera.com/UGG-Boots-5854-Classic-Mini-c46.html UGG Boots 5854 Classic Mini
http://www.bootsera.com/UGG-Boots-5245-Ultra-Tall-c47.html UGG Boots 5245 Ultra Tall
http://www.bootsera.com/UGG-Boots-5225-Ultra-Short-c48.html UGG Boots 5225 Ultra Short
http://www.bootsera.com/UGG-Boots-5273-Sundance-c49.html UGG Boots 5273 Sundance
http://www.bootsera.com/UGG-Boots-5605-Anniversary-c50.html UGG Boots 5605 Anniversary
http://www.bootsera.com/UGG-Boots-5230-Suede-c51.html UGG Boots 5230 Suede
http://www.bootsera.com/UGG-Boots-1886-Delaine-c52.html UGG Boots 1886 Delaine
http://www.bootsera.com/UGG-Boots-5163-Charming-c54.html UGG Boots 5163 Charming
http://www.bootsera.com/UGG-Boots-5802-Classic-Romantic-Flower-c55.html UGG Boots 5802 Classic Romantic Flower
http://www.bootsera.com/UGG-Boots-5899-Lovely-c56.html UGG Boots 5899 Lovely
http://www.bootsera.com/UGG-Boots-5831-Short-Baroque-c43.html UGG Boots 5831 Short Baroque
http://www.bootsera.com/UGG-Boots-5825-Classic-Short-c42.html UGG Boots 5825 Classic Short
http://www.bootsera.com/UGG-Boots-5822-Classic-Tall-Stripe-Cable-Knit-c41.html UGG Boots 5822 Classic Tall Stripe Cable Knit
http://www.bootsera.com/UGG-Boots-5202-Best-Kids—c28.html UGG Boots 5202 Best Kids
http://www.bootsera.com/UGG-Boots-5251-Child-c30.html UGG Boots 5251 Child
http://www.bootsera.com/UGG-Boots-5281-Kids-c31.html UGG Boots 5281 Kids
http://www.bootsera.com/UGG-Boots-5325-Sundance-II-c32.html UGG Boots 5325 Sundance II
http://www.bootsera.com/UGG-Boots-5359-Nightfall-c33.html UGG Boots 5359 Nightfall
http://www.bootsera.com/UGG-Boots-5812-Classic-Tall-Metallic-c34.html UGG Boots 5812 Classic Tall Metallic
http://www.bootsera.com/UGG-Boots-5815-Classic-Tall-c35.html UGG Boots 5815 Classic Tall
http://www.bootsera.com/UGG-Boots-5818-Bandage-Tail-c36.html UGG Boots 5818 Bandage Tail
http://www.bootsera.com/UGG-Boots-1873-Bailey-Button-Triplet-c37.html UGG Boots 1873 Bailey Button Triplet
http://www.bootsera.com/UGG-Boots-5818-Cylinder-Charm-Closure-c38.html UGG Boots 5818 Cylinder Charm Closure
http://www.bootsera.com/UGG-Boots-5819-Belts-c39.html UGG Boots 5819 Belts
http://www.bootsera.com/UGG-Boots-5819-Classic-Cardy-c40.html UGG Boots 5819 Classic Cardy
http://www.bootsera.com/UGG-Boots-5817-Zipper-c57.html UGG Boots 5817 Zipper

http://www.coachoutletspace.com Coach bags outlet
http://www.coachoutletspace.com Coach bags
http://www.coachoutletspace.com Coach outlet
http://www.coachoutletspace.com Coach bags online
http://www.coachoutletspace.com Coach handbags
http://www.coachoutletspace.com Coach online

http://www.coachoutletspace.com/Coach-Handbags-c1.html Coach Handbags
http://www.coachoutletspace.com/Coach-Boots-c12.html Coach Boots
http://www.coachoutletspace.com/Coach-Bracelets-c13.html Coach Bracelets
http://www.coachoutletspace.com/Coach-Earrings-c15.html Coach Earrings
http://www.coachoutletspace.com/Coach-Jewelry-Set-c16.html Coach Jewelry Set
http://www.coachoutletspace.com/Coach-Necklaces-c17.html Coach Necklaces
http://www.coachoutletspace.com/Coach-Shoes-c18.html Coach Shoes
http://www.coachoutletspace.com/Coach-Key-Chain-c19.html Coach Key Chain
http://www.coachoutletspace.com/Coach-Wallets-c24.html Coach Wallets

zocy010
01/19
xie () (URL) - 19 01 11 - 00:45
This is the right blog for everyone who wishes to find out
about this topic. You know a whole lot its almost hard
to argue with you (not that I personally will need to…HaHa).
You definitely put a fresh spin on a subject which has been discussed for ages.

Great stuff, just wonderful!
BHW (URL) - 12 04 17 - 19:21
These are truly wonderful ideas in about blogging.
You have touched some nice points here. Any way keep up wrinting.
BHW (URL) - 13 04 17 - 11:04
I think this is one of the most important info for me.

And i'm glad reading your article. But wanna remark on few general
things, The website style is great, the articles is really great :
D. Good job, cheers
manicure (URL) - 03 05 17 - 14:21
Appreciating the hard work you put into your site and detailed information you present.
It's awesome to come across a blog every once in a while that isn't the same
outdated rehashed material. Wonderful read! I've saved your
site and I'm including your RSS feeds to my Google account.
How do you stretch your Achilles? (URL) - 28 07 17 - 13:01
Thanks for the marvelous posting! I truly enjoyed reading
it, you are a great author.I will ensure that I bookmark your blog and will come back later in life.
I want to encourage you to ultimately continue your
great posts, have a nice evening!
http://magdalenesoares.weebly.com/blog/what-causes-hammertoes (URL) - 30 07 17 - 12:06
I every time emailed this web site post page to all my friends, since if like to read it next my friends
will too.
Can better posture make you taller? (URL) - 31 07 17 - 03:38
This piece of writing will help the internet users for building up new blog or
even a blog from start to end.
deenawalczyk.hatenablog.com (URL) - 11 08 17 - 16:01
Good day! I could have sworn I've visited this website before but after
looking at some of the posts I realized it's new
to me. Regardless, I'm certainly pleased I
stumbled upon it and I'll be book-marking it and checking back
regularly!
http://plaza.rakuten.co.jp/ettiemismit/ (URL) - 12 08 17 - 06:43
---
---