05 August 07 - 20:56

Bacon and Peanut Butter Sandwich

Cholesterol too low? Not enough sodium in your diet? Boy do I have the cure for you. It sounds strange to some people, but a peanut butter and bacon sandwich tastes absolutely fantastic. I've been talking it up a lot lately, so I decided to put my money where my mouth is and make another one of these precious treats.

As with any project involving bacon, start with the finest ingredients. This is a premium "thick cut" variety. It smells really good even before its cooked. Since I don't actually want to die instantly, this brand doesn't actually have a ton of sodium and it has zero preservatives.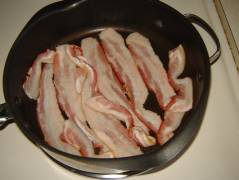 (more)
Matthew - How To - seven comments - § ¶